 Holland Creek Development
The area will become a premier showcase for an environmentally
friendly approach to residential development focused on the preservation of Holland Creek's role as a fish producing stream and the enhancement efforts of the local community.
The protection and enhancement of improvements made to the creek for habitat restoration and in particular salmon-spawning features has been the paramount consideration during the master planning exercise.
The Holland Creek project will be developed with a specific focus on the natural systems endemic to the site and surroundings. Natural systems based land planning is a tried and true method of reducing project costs, preserving the environment, and enhancing the quality of life for future residents.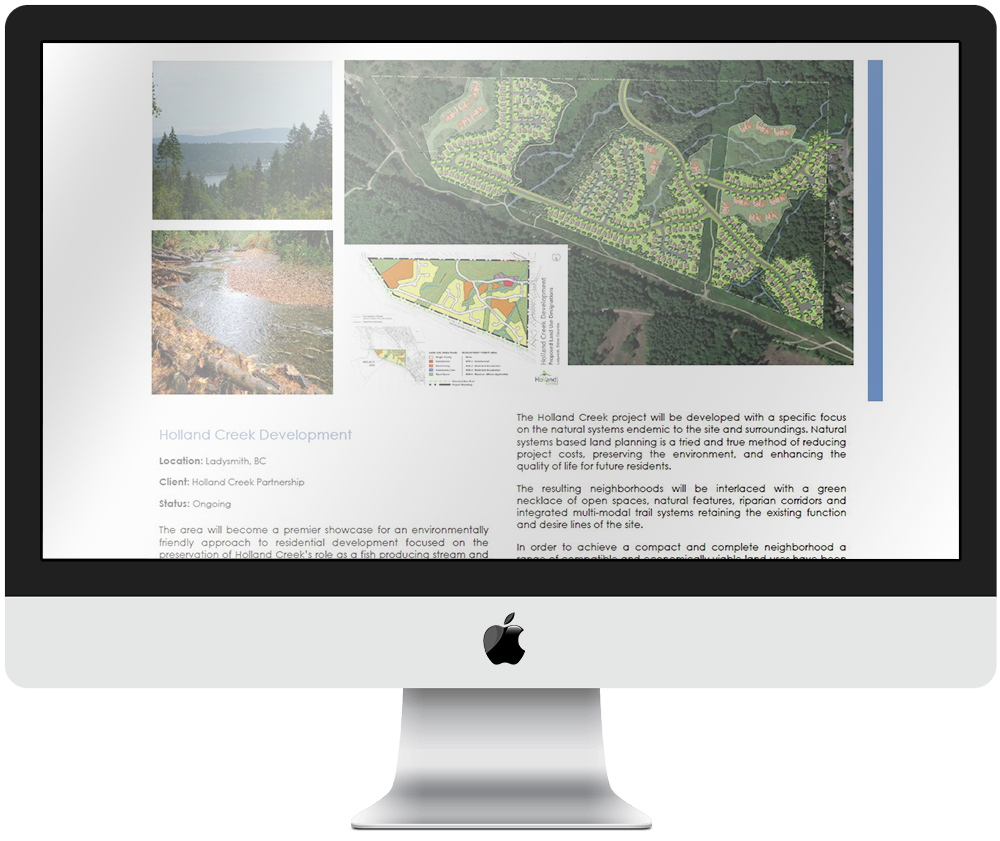 Project Scope
The resulting neighborhoods will be interlaced with a green necklace of open spaces, natural features, riparian corridors and integrated multi-modal trail systems retaining the existing function and desire lines of the site.
Project Specifications
In order to achieve a compact and complete neighborhood a range of compatible and economically viable land uses have been considered in the context of OCP policies, new area specific Development Permit Area guidelines, and designated conservation covenant areas.
"The Holland Creek development project retained MacDonald Gray at the start of our project to assist us in securing a rezoning. During the process they provided input on the project design, made presentations to town committees, represented the project at open houses, helped in negotiations with town Staff, made representation at the Public Hearing; and provided project plans for public viewing.
They were definitely an asset to the project team and we look forward to working with the again in future projects."
Jim Dickinson, Holland Creek Partnership